A lot of my friends and family think that I can't eat things like chocolate, cookies, chips and other kinds of everyday junk food. Not true! Though it's true I can't indulge in a milk chocolate Hershey bar anymore, or scoff a whole bag of Cheddar and Sour Cream Ruffles, there are other options for me when it comes to junk! You can find most of these at your local grocery store.
So yes, I can have chocolate...as long as it doesn't contain milk, milk solids or butterfat. Here are two that I indulge in most often:
This is so delicious. Sweet and almondy marzipan covered in dark chocolate. Mmm.
Chocolove has a few flavors I like. This one's my favorite.
Other notable mentions: Trader Joe's Dark Chocolate w/ Raisins and Pecans, Trader Joes's 70% Dark Chocolate, Ghirardelli Twilight Delight, Trader Joe's Dark Chocolate Covered Pretzels,
Cocoa Pete's Berry Berry Dangerous
When it comes to chips I like these best. They don't contain any cheese, milk or whey like a lot of flavored chips do:
These are equivalent to Cheetos and are soooo tasty!
The perfect salty treats. No cheese or sour cream necessary! Well maybe a really good vegan spinach dip!
Other notable mentions: Original Sun Chips, Whole Foods brand Veggie Chips
Cookies and Crackers!
And yes, Oreos are vegan. :)
Other notable mentions: Vons Safeway brand Fudge Mint cookies, Lorna Doone Shortbread, Nutter Butter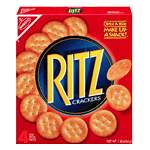 And surprisingly Ritz do not contain milk or butter. They do have hydrogenated oil though which isn't good for anybody but when I want a nice buttery tasting cracker for topping with mock tuna salad or dips, I like these a lot.
Ice cream! Since I don't eat dairy I go for these amazing dairy free ice creams.
For a list of vegan items you can find at your local grocery, go
here
.