I've said this before and I'll say it again: I LOVE curries. I'm from a Thai background so we like our curry. This one in particular. It's a spicy green curry made from green curry paste and creamy coconut milk. You can find these tinned curry pastes at asian groceries. They come in many different flavors: red, green, masaman, karee, etc...
When you buy these, make sure they don't contain shrimp or fish paste. Some of them do so you have to be careful. Here is the one I used by Maesri brand.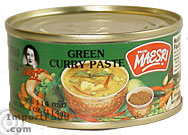 You must eat this curry with hot jasmine rice!
Thai Green Curry with Veggies and Tofu
2 TB canola oil
1 onion, chopped
2 cloves garlic, minced
1 tsp ginger, minced
2 medium potatoes, peeled and cut into cubes
1 carrot, sliced
1 TB green curry paste (this is spicy so use as little or much as you like - store the leftover paste in a little ziploc bag in the freezer)
2 cans coconut milk
2 cups broccoli florets
1 small red pepper, diced
1 zucchini, sliced
1 package extra-firm tofu, drained and cubed
2 TB soy sauce
2 tsp sugar
juice of one large lime
Heat oil in a large pot on medium heat. Add onions, garlic and ginger. Saute for a while until onions are browned and a bit soft. Add potatoes, carrots and green curry paste. Stir around to coat, then add coconut milk and stir. Bring to a boil. Add broccoli, red pepper and zucchini. Add soy sauce, sugar and lime juice. Lower heat to medium low. Add tofu cubes. Cover and simmer for about 15-20 minutes or so or until potatoes are thoroughly cooked. Serve over hot rice.
****
Yesterday's post got me inspired to make
Mexican Chocolate Cupcakes
. These are for my friends for their birthday celebration tonight. I frosted them with vanilla buttercream and dusted them with cocoa powder.